Trophy Lake St Clair Musky Charter
Take your Lake St Clair Musky Charter aboard the PREDATOR® with Captain Steve Jones!
Metro Party Shoppe meeting point for all Lake St Clair Charters
According to In-Fisherman Lake St. Clair is hands down the hottest musky fishing anywhere! Lake St Clair, located just northeast of Detroit, fed on the north end by the waters of Lake Huron flowing through the St. Clair River, and emptied on the south end towards Lake Erie by the Detroit River. Lake St Clair is loaded with trophy Great Lakes Musky.
These avid hunters prowl this shallow water lake searching for their daily meals amongst the plentiful baitfish and forage fish populations present in Lake St. Clair. Steve Jones is the premier Lake St. Clair Musky Charter captain in the world.
Enjoy a Lake St Clair Musky Charter, June – November
Captain Steve Jones pioneered many of the Lake St Clair musky techniques used today. The most productive method for catching musky on Lake St. Clair is to troll large crank baits, spinners, and plugs off planer boards and directly behind the boat in the foam and prop wash while maintaining a fairly quick pace of up to 5mph.
In the past, dedicated Lake St. Clair musky fisherman spent hour upon hour sitting in a motorboat watching the rods for a strike. It wasn't uncommon to only average one strike for every fifteen hours of trolling. 
In recent years Lake St Clair has exploded with big numbers and big fish. In fact, Captain Steve Jones averaged over 10 Muskies Per Day, including over 100 Master Angler fish in 2012! His best day on the water in 2012? 37 landed with 46 hookups! Often Captain Steve has produced over a dozen in just one day of fishing. Capt. Steve Jones is considered one of the premier Musky guides in the country and is sought after worldwide.
You may have seen Captain Steve in In-Fisherman or on In-Fisherman's Musky Doctor video and almost any popular fishing publication and in newspapers and TV Shows across the country.
Most experienced Lake St Clair Musky Charter Captain
Captain Steve Jones offers quality Musky trips on Lake St Clair. If you have not fished Lake St Clair before, you are in for a treat! You can expect to catch more musky than anywhere on the continent and there are more trophy musky here than anywhere else! Captain Steve Jones also offers casting trips for Musky!
31′ Tiara Sportfish

7 – 8 hrs – $1095     
5 hrs – $895
12 hrs (split two days) – $1995 pm only
BASED ON 5 PERSONS OR LESS add $150 for 6th
Combo Musky – Bass
9 hrs – $1295 
BASED ON 5 PERSONS OR LESS add $150 for 6th
Combo Musky – Perch
9 hrs – $1295 
BASED ON 5 PERSONS OR LESS add $150 for 6th
20′ Boston Whaler

6 hrs – $795
Combo Musky – Bass
8 hrs – $995
BASED ON 4 PERSONS OR LESS
Rates are subject to change or fluctuate around fuel prices. A 50% deposit required to hold your date.
WE RELEASE ALL MUSKIES!!!
Lake St. Clair Musky Casting
Trolling for muskies on Lake St. Clair provides the greatest thrill available in freshwater fishing.
At times, however, Lake St. Clair Musky casting can be a blast as well. For this we offer musky casting trips on our 20′ Boston Whaler FishPredator II. 
Bring your own tackle or let us provide it .
Special Price: $795 for 4 anglers.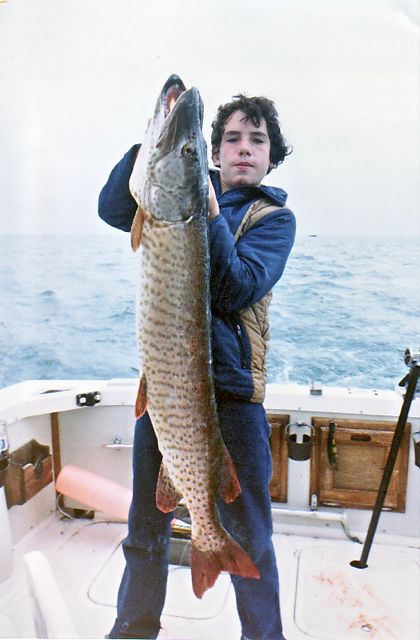 What to bring for a Lake St Clair Musky Charter:
Your safety and comfort are our number one priority. We have done our utmost to provide the best, and most up to date safety equipment.
To ensure your personal comfort, here's what you should bring on the day of your charter:
Fishing License
Sunscreen
Sunglasses
Hat
Camera
Your own food and beverages
Soft soled shoes
Contact Us to book a Musky trip now!

Get Ready For An

Unforgettable Adventure!